Higher Spending SMBs Using More Media Channels
Read more on Advertising, Research Summaries, Small Business
tweetmeme_style = 'normal';
tweetmeme_url = 'http://www.marketingprofs.com/charts/2010/3869/higher-spending-smbs-using-more-media-channels';
tweetmeme_source = 'marketingprofs';
Higher spending small- to medium-sized business advertisers (SMBs) not only allocate more money to their advertising budgets than the other SMBs on average, but use over twice as many media channels in their marketing mix, according to a survey from BIA/Kelsey.
Such SMBs—"Plus Spenders"—spend at least $25,000 annually on media advertising and promotion, considerably more than the broader SMB population on average, which spends from $2,000 to $3,000 annually.
SMBs that spend more on advertising do so more diversely: Plus Spenders use an average of 6.5 types of media in their promotional mix, compared with 3.1 types used by all other SMBs.
Though Plus Spenders retain broad roots in traditional media—--using a wide array of print products, such as coupons, door hangers and fliers—they also use online media robustly: 55% already use email marketing.
Plus Spenders spend more than other SMBs across various advertising areas:
Websites: 90% of Plus Spenders have a website, compared with 62% of all other SMBs.
Online media: Plus Spenders spend on average 26.0% of their total ad budget on online media, compared with 21.8% for other SMBs.
Broadcast media: Plus Spenders spend on average 16.1% of their ad budget on broadcast media, compared with 1.3% for other SMBs.
Below, other findings from BIA/Kelsey's New LCM: SMB Plus Spenders survey, which tracks SMBs that spend $25,000 or more annually on media advertising and promotion.
Plus Spenders are performance-oriented when making media buying decisions: 40% rate the demonstration of ROI as the first or second most important service a vendor of online advertising can provide. Tracking lead sources (calls or clicks) is a close second (39%).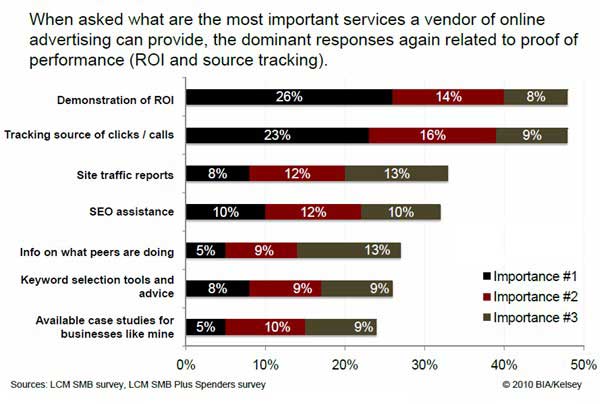 Vendor services such as competitor intelligence (14%) and case studies (15%) are considerably less important to Plus Spenders.
Looking for great digital marketing data? MarketingProfs reviewed hundreds of research sources to create our most recent Digital Marketing Factbook (May 2010), a 296-page compilation of data and 254 charts, covering email marketing, social media, search engine marketing, e-commerce, and mobile marketing. Also check out The State of Social Media Marketing, a 240-page original research report from MarketingProfs.
"SMB Plus Spenders are more performance-oriented in making their media purchase decisions and do a considerable amount of lead tracking," said Steve Marshall, BIA/Kelsey research director. "This group of SMBs, with its digital media savvy and use of more media categories, represents the sweet spot for many companies developing and delivering local advertising solutions."
About the data: The first wave of the BIA/Kelsey Local Commerce Monitor: SMB Plus Spenders survey was conducted in May 2010 among 152 SMBs spending at least $25,000 annually on media advertising and promotion.
Sign up for MarketingProfs Today ... it's FREE!
Get our best marketing tips each week—just enter your email address below to subscribe!